A rocking pony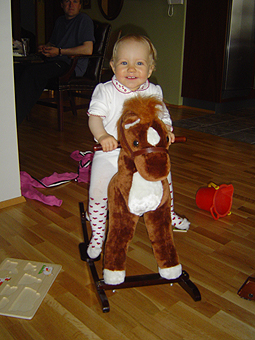 They gave me a rocking pony for my birthday, a brown and white one – just like this brown pinto horses we have here in Iceland. I remember it from the day before when I had a try in the store. I found love right away and I remember how terrible it was to leave it behind me when we left. Dad could not understand my furious when he said we have to go home. I try to tell him about my newfound love and it was not possible to leave my new friend. He did not care, put me into the wagon and we walked away.

I had this bad feeling all evening – you know this feeling you can get in your stomach when you have received a bad news or something. Mom and dad tried to get me into better mode and we were playing with some of my books. It was alright but still I was thinking of this new pale how lonely it must be in this big store.
Then this morning I realized it was brought to me - my happiness was total. Jumping up and down for several minutes while dad was putting it together I finally could take a ride again. And I did... smiling. I had found my love again.
Anna Björk
ps. to my Pink Bunny: I love you too – always have, always will