I want a cookie too...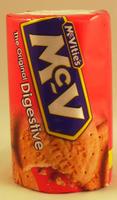 The communication between mom and me has always been a monolog. She has been talking to me and I have been listening very carefully even though its very seldom I do exactly what she's trying to get me to do. Im a modern baby – knowing my rights and there's nothing wrong with my will! I am just pretending so she can believe she's the master – but everybody knows the truth about the real master anyway.

Until yesterday. She was cooking and I was walking around her legs trying to get the usual attention by complaining loudly. Then I saw she took one of these wonderful cookies. And she did not give me any one. I walked towards her lifting up my hand, telling her I also wanted a cookie! Mom stared at me with big eyes and then she smiled: oh, so do you also want a cookie, my little sweetie. Here you are and she gave me one.
She told me she wanted a cookie - mom said to every one she talked to and she was so proud of me! I was too, of course!