On the beach – Playa del Reykjavik
Summer has finally arrived in Iceland and today it was blue sky and about 21 degrees C. It is very warm for being Iceland and actually the heat feels much more here than in other countries.

We took the opportunity to go to the only bathing beach down town Reykjavik. I thought it was a splendid idea and I ran happily around all the time. Mom had a living hell trying to catch me while I was laughing and running. We also went down to the water and of course I had to run into that too. It was a bit different from being in the swimming pool and I fell almost at once. Wow it was much colder in the water I am use to. They told me it was 18 degrees and in the pools it is normally 28 degrees. Burr, I was freezing and my clothes went so cold and wet. Mom went up to the grass field – as she thought it was much better to have our blanket there – and changed clothes on me.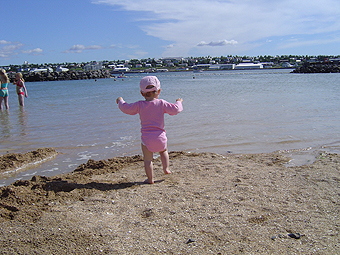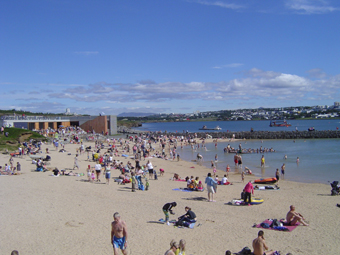 Farm Nautholl was built in 1850 and was burned in 1900 in the wake of the outbreak of typhus. Its ruins are still obvious to the north of the car park, near the airport fence.During World War II, the area around the cove was a major Allied Atlantic Base. A memorial to the Norwegian air force stationed there stands by the service centre.A brook with hot runoff water from the city central heating systems was a popular bathing spot until it was closed in 1985. The site was redeveloped with a service centre, sandy beach and a sheltered, heated lagoon, and opened in the year 2000. The water temperature of the lagoon usually is between 18-20°C, and 30-35°C in the hot pots.Walking and jogging paths stretch right along the shoreline, and into the wooded area of the Oskjuhlid Hill.Cove Nautholsvik was awarded the Blue Flag Certificate. This award is granted beaches, which offer high quality environments. The Siglunes Sailing Club arranges pleasure cruises on the bay. Rowing boats, canoes, and small sail boats can be rented on Thursdays during summer.Nautholl is a licensed restaurant offering a wide menu. It is open all year round. Snacks are on sale in the service centre.