Playing with puzzles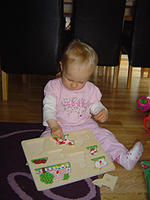 I have found a new hobbie – I just love to play the puzzle and I am pretty good at it too! However putting eache puzzle back again is still a bit tricky. Mom says I am great at it and she says jippie every time I am done. I can sit with this for hours which mom founds quite ok as then she doesnt has to run after me all the time. But I do that too, you see, I dont understand why it is so fun to investigate all new things I see. And I discover new things everyday. Mom and dad have to watch me all the time. But do you want to know something, as soon as I see they are not watching I am so quick they even dont see until it is done.
thats all for today.
Anna Björk