Up and running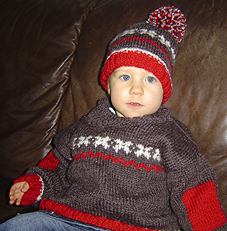 Last week was this kind of week mom and dad wants to forget. I have never been so sick in my entire life! All week I was lying with very high fever and bad cold. I had to go to the children's hospital for check out. It was a very strong virus I was suffering from.

Finally my fever is gone I am getting stronger for every minutes! I have also got my appetite back and I am eating like never before. Mom is relieved. Yesterday I went to my day nanny and it was great to see my friends again.

Mom has started a new hobby she is making wool sweaters and now she also made a cap. She has just finished this one - don't I look good?