1st of Advent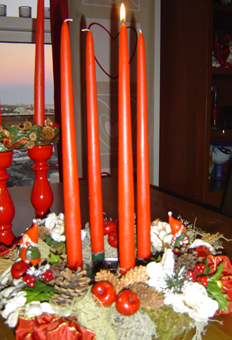 It has been a lovely Sunday, this 1st of Advent 2005. We slept a little bit longer as mom and dad had been at the Theatre and saw the play Heaven by Ibsen the night before. During the time they were away I stayed at Ingvar and Ingibjörk. We played on the drums and other instruments so I really had a great time.

We started this morning by having a great breakfast and lighting first candle of the wreath mom made yesterday. After that dad put up Christmas lights on the balcony and mom was packing all Christmas gifts for our relative's in Grundafjördur.

Then it was time to go to church. It was so beautiful and we sang many of the famous songs like Silent Night and we wish you a Merry Christmas. This was a special ceremony arranged by the Swedish Association and after wards we went to the Swedish Ambassadors residence for coffee and cookies. The Christmas spirit was on top!

After the Church we went to Smaralind, the big shopping centres were we were listening to a concert and made some shopping. Mom gave dad a very nice suite and dad bought himself a coat. He will be very good-looking for Christmas, that's for sure!!

I was so tired after all this happenings I fell asleep on our way home. It has been a wonderful day!