I am that STRONG!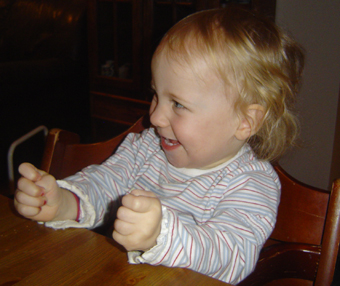 She learns lots of things at her day nanny. Things we realize by coincidence she knows. Yesterday she showed us one thing – how strong she was. A friend of us came for dinner and she asked Anna Björk if she knew how strong she was. Anna Björk knew exactly what she meant and squeezed her hands as strong as she could. Both B and I stared at her and started to laugh.

She has become more alert and aware in her language. If you ask her how the horse, dog and cat sounds she answers you correctly in her way. It is also possible to ask her to do things, both in Icelandic and Swedish.

Today when we came home she took her out door clothes off by herself. She needed some help in end of the zipper while rest of it she took off all. I have not taught her this so it must be her day nanny.