My sweet sister – "Titti"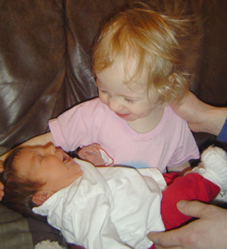 Today my little sister is 2 weeks old. I have something to admit, I guess. I know mom and dad has been talking about a brother or a sister for a very long time and I knew something was going on when mom's belly started to grow rapidly. Still, it was difficult for me to realize I was not going to be alone with them any more and still it sometimes hurts when this new little person is taking away my time. Most of all it is difficult when dad holds her. It is MY dad!! Mom says this is natural behaviour for a little girl like me while she might not understand the big picture until it was reality.
First days "titti" - I have named my sister to Titti - arrived was turbulent time for me and I did not really understand how to act neither behave. I was crying a lot and I felt much insecure in most things. I thought mom and dad did not care for me anymore while back in my mind I knew they did. After a couple of days it all went much better. Today I am pretty sure of mom and dad and I must say I have got a wonderful sister!
Titti is growing and has reached her birth weight and more. On her second day she went into trouble with yellow colour, birth jaundice that made her very sleepy. She still is very sleepy and very calm while the colour is getting better and better.