2 years birthday coming up!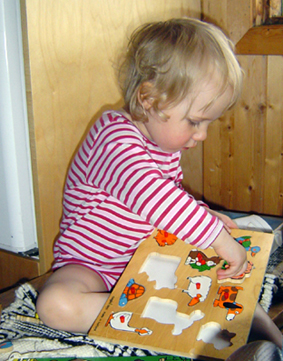 On Saturday 24th I will be 2 years old. Wow, time flies mom thinks it's like yesterday she saw me for the first time. I have grown into a curious happy child with a strong will and completely unafraid. I like dancing and parties and have already shown I am a "night animal" as I like to sleep in the mornings and do not want to go to bed particularly early. I like horses and football – and I assume mom is not very happy about the football thing… I like to talk to people and am never afraid of strangers. I am a daddy's girl and even if I love mom he is my idol and my hero. He is the one I am turning to in all kind of situations when I need consoles. During my first years my toughest thing to learn is to eat real food. Actually mom and dad had huge troubles in teaching me to like eating. As a matter of fact I did not like it at all and sometimes they sat 40 minutes every time trying to feed me. I guess I have to thank Lilja – my day care nanny – as she learnt me how tasty food really is. Today I like almost everything while sausages is my ever-best favourite food.

We have been on our second horse trip. I sat in the car together with dad and Titti. Mom was riding and it was raining cats and dogs. Because of the weather ebb was not like usual and in one path they had to swim with the horses. Burr, it must have been freezing, as it cannot be warmer than 6 degrees in the sea. Mom was a bit afraid about her breastfeeding so she quite rather soon after. A hot bath and some rest cover all troubles so Titti still had food the day after.

Yesterday mom and dad had great news – we have got permission to build our own house!! Our land is nearby we live now and if plan follows we will start building summer/fall 2007.