Cowboy Party in Grundafjördur
Last weekend we went up to my aunties in Grundafjördur. Kristin was celebrating her 30's birthday by inviting all her friends and family to a country western party. We all wore jeans and cowboy hats. I love parties and was dancing like ever before. I was also playing football with my cusine Thorre and as a matter of fact I am pretty good at it. Whatever mom is proud of that or not is a good question, as she is not particularly found of football.

I am continuing at "Rolo" and at the moment mom is trying to leave me there alone. Yesterday I was there for an hour without mom and it was ok. I was playing with all the children and I had lots of fun.

I am increasing my word vocabulary and I am learning new words every day. I am still mixing Icelandic and Swedish while it's a bit better. This morning I said 2 words at the time "pappa bil" which means I told mom dad went with his car.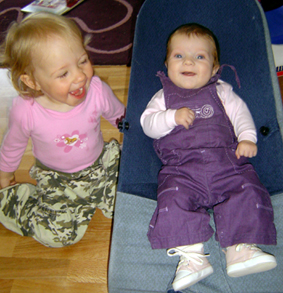 Titti has been growing rapidly and is smiling and talking like never before. She is still much calmer than I was while she can be mad too. Yesterday she was really pissed as mom left us in the car while she ran into the shop. We were sleeping so she did not want to wake us up however Titti woke up and went completely mad, as mom did not respond at once. Mom was only away for a couple of minutes but Titti could not accept it. I was still sleeping I did not bother at all…

The other day mom was organizing her sewing things into different boxes. Do you wanna know what I did? When she did not watch I put all her cotton reels into my car. It went many days until she discovered what I had done. He he he… I like fooling mom!
See ya